Hey Everyone, thank you for your patience while we disappeared off the planet for a few months. We bought a house and moved in, hence the silence for a while.
Our home is located somewhere in the deep south of Texas, in the middle of the cotton fields. Something like "little house on the prairie" only different.
Today we took our trailer to the RV lot to sell it.
I feel like a traitor.
So, an ode to our dear departed trailer, and an introduction to our new (actually very old) home. I was going to end the blog at this point, print a book and say goodbye to you all.. but it seems the story has only just begun. So onto our second chapter, and our second year in the USA. In September we celebrated the first anniversary of our arrival.
The house was built in 1936, and as you can see in the photo's it's got a lot of character. Which can be a good thing, or not, depends on how you feel about the Joneses.
The interior has gorgeous wooden floors
with stunning wooden trim around all the doors and windows. The house is built of cedar wood, and is a real solid old dame. She needs a little fixing, but hey... it's home.
It is absolutely amazing beyond words to have a full sized home. The kids spent the first few weeks thumping up and down the stairs, leaping down the stairs, sliding down the stairs wrapped in sleeping bags, charging through the house and swinging from the tree's in the yard. In other words expressing their delight in the fact that they don't have to walk lightly as we always had to in our Little Match Box Trailer.
The previous occupants, left their cats behind. The cats promptly gave birth to a litter of kittens.
The cats have stolen into our hearts on their velvet paws
. Pity I'm allergic. Anyway there is a charming "free kittens" sign outside. For some strange reason, nobody has stopped.
We have a ton load of trash to clear from the garage and barn. I wonder how people bring themselves to live like that. I would put a picture of the trash on here but you would probably be sick, really.
On the upside, the barn is built with Longleaf pine. Here is a tidbit of info.
The reclaimed longleaf pine story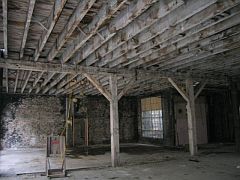 Early 20th century warehouse interior beams
These are the virgin longleaf pine trees that did make it to the sawmill and were then sawn into lumber and beams. When America's beautiful old (pre-1925) buildings and structures are dismantled, we take great care to lovingly reclaim the beams and lumber so they can be used again. With nail holes and bolt holes and other marks of a century or more of use, this wood is part of our national history. Whether it's a New Orleans cotton trading exchange building from 1880 or a barn from Arkansas or massive beams from a wharf or bridge, these are the actual woods our ancestors used. They have renewed America's love affair with "Wood, the way it used to be".